Shadow

The Shadow is a roomy and more stable version of the Legend.

Capable of out-maneuvering even the Legend, the Shadow is designed with more stability and a better fit for the kayaker of slightly fuller figure. Like the Legend and Silhouette, the Shadow offers plenty of comfort room for the feet. Bigger cockpit, bigger seat.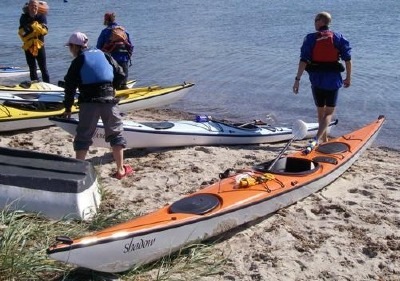 With excellent expedition load capacity, the Shadow is a great kayak for that special get-away!


(On multi-day trip in Danish archipelago)

Easy to load through 2 oval hatches and a round day-hatch, the Shadow comes fitted with a comfortable seat which is wider than Legend seat, with sturdy back-band. Upgrade by fitting a compass, choosing the Kevlar composite option, custom fitting your "foot" bulkhead, a foot pump, or "Seaward" rescue straps.







Dimensions
length 17 feet 10 inches
beam 22 inches
depth 13 inches
cockpit 31 x 16.5 inches
bow compartment cargo volume 78 liters
stern compartment 82 liters
day-hatch volume 42 liters
approx total cargo capacity 202 liters
weight approx. 59 pounds
The Shadow is built in Canada by Seaward Kayaks on Vancouver island.

Shadow