DoubleShot

The Point65 DoubleShot is an exciting tandem sea kayak designed to go where the singles go!

The DoubleShot hull features hard chines with a shallow arch, and a comfortable degree of rocker. It is similar in some ways to that of the Whisky16, and can be just as much fun!
(Karen and Andy in Sweden)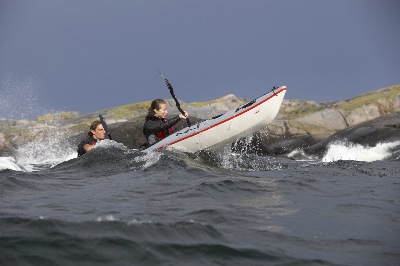 The design permits accurate edged-turning for coordinated paddling teams, making close coastal exploration easier.
(Lina and Paul in Sweden)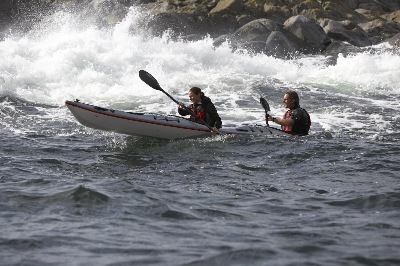 The seating positions are suitably separated to avoid "paddle-clash" between the two paddlers in action. This allows each paddler to operate independently from the other when maneuvering in conditions.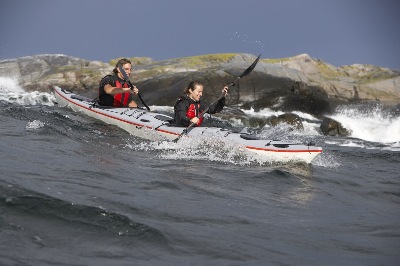 Nimble for a double, and comfortably stable, the DoubleShot has ample storage for day-trips and multiday expeditions, and offers exciting play opportunity for adventurous couples. Looking for a playful tandem and don't want a barge? This could be your craft!

Storage is via two oval hatches into sealed bow and stern compartments and via a large round hatch into a sealed central compartment between the two seats.
For your convenience there are two additional sealed compartments; a day-hatch is positioned immediately behind the aft paddler, and a small "Whisky-hatch" with access to a small compartment ahead of the forward paddler.

DoubleShot